Six ladders, up to ten feet high, ropes and several types of aid along the way suggest a sportsman, or at least the kind of person that has no fear of heights and walks with unfaltering steps.
However, the path is quite level over long stretches so that there is ample time to relax and enjoy the scenery. Basically the path takes you over the rocks and across the typical terraced hillside winegrowing plots. Sometimes you can even observe the winegrowers at their labour. Time and again steep rock masses have to be crossed. They border the small but sheer dips ("Kaulen") where the terraced vineyards were laid out.
The Calmont is a huge parabola directed towards the south so that on sunny days it can get quite hot. Nor is there much in the way of shade so a supply of drinking water along the way is essential.
This is one of the most interesting parts of the Moselle Valley and there is quite a lot to see. Although physically strenuous the walk provides superb vistas and valleys full of variety.
Beyond the valley there is the ruined minster church of Stuben and on the "Petersberg" opposite a chapel that goes by the same name.

In summer you can swim and sunbathe at the beach near the ruin. Big inland barges come round the sharp bend in the narrow valley. Those interested in flora and fauna will find here a remarkable niche characterized by summer heat and drought. The box tree (Buxus) is the typical plant in the Calmont. Its intense scent pervades the air all along the way.
In June the Apollo butterfly flutters about and if you are patient -and lucky- you can spot the emerald lizard, the biggest endemic one in these parts.
You can start the walk either in Eller or in Bremm. In Eller you take the road to Bremm until you come to a railway bridge. You start off on the small path below the bridge. It goes up the hillside. Near the box tree hut on the "Galgenlay" you turn left along a pathway leading you halfway the Moselle Valley slope through the vineyards.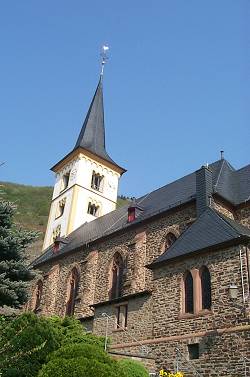 In Bremm you start off above the parish church taking the "Weinbergsweg" all the way, then going down the steps leading to the path.
The Calmont walk is part of a footpath network linking the villages of Bremm, Ediger-Eller and Neef. There are railway stations in Eller and Neef. Boats can moor at Ediger-Eller. In all three villages mentioned accommodation is reasonably priced and there is no lack of caf s, pubs or restaurants.